Carmanah Technologies Corp (TSE:CMH) – Stock analysts at Cormark lowered their Q3 2016 earnings estimates for shares of Carmanah Technologies Corp in a report issued on Friday. Cormark analyst M. D. Whale now anticipates that the brokerage will post earnings of $0.03 per share for the quarter, down from their previous forecast of $0.08. Cormark also issued estimates for Carmanah Technologies Corp's Q1 2017 earnings at $0.04 EPS, Q2 2017 earnings at $0.07 EPS, Q3 2017 earnings at $0.04 EPS and Q4 2017 earnings at $0.05 EPS.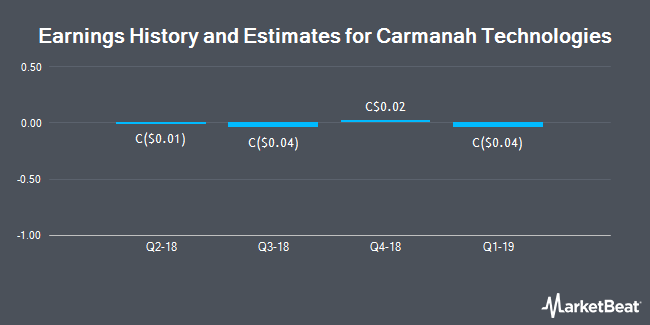 Shares of Carmanah Technologies Corp (TSE:CMH) opened at 3.97 on Monday. Carmanah Technologies Corp has a 1-year low of $3.34 and a 1-year high of $7.10. The company has a market cap of $98.70 million and a price-to-earnings ratio of 31.51. The stock has a 50 day moving average of $4.59 and a 200 day moving average of $4.46.
Carmanah Technologies Corp Company Profile
Carmanah Technologies Corp is engaged in the business of developing and distributing renewable technologies, including solar-power light emitting diode (LED) lighting, and solar powered systems and equipment. The Company's segments are Signals, Illumination and Power. The Signals segment offers products for traffic, marine, airfield ground lighting, aviation/obstruction and offshore verticals.
Receive News & Ratings for Carmanah Technologies Corp Daily - Enter your email address below to receive a concise daily summary of the latest news and analysts' ratings for Carmanah Technologies Corp and related companies with MarketBeat.com's FREE daily email newsletter.