Peel Hunt reaffirmed their buy rating on shares of Clinigen Group PLC (LON:CLIN) in a research report report published on Wednesday. They currently have a GBX 1,000 ($13.05) target price on the stock.
Several other research analysts have also recently commented on CLIN. Numis Securities Ltd restated a buy rating on shares of Clinigen Group PLC in a research report on Friday, June 24th. Stifel Nicolaus restated a buy rating and issued a GBX 800 ($10.44) target price on shares of Clinigen Group PLC in a research report on Wednesday, July 20th. Five research analysts have rated the stock with a buy rating, Clinigen Group PLC has an average rating of Buy and an average target price of GBX 856.60 ($11.18).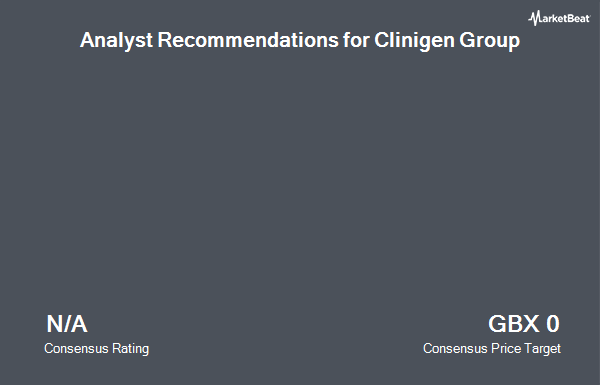 Shares of Clinigen Group PLC (LON:CLIN) opened at 779.50 on Wednesday. The firm has a 50-day moving average of GBX 658.86 and a 200 day moving average of GBX 600.08. The stock's market capitalization is GBX 893.30 million. Clinigen Group PLC has a 1-year low of GBX 492.75 and a 1-year high of GBX 793.50.
The business also recently disclosed a dividend, which will be paid on Friday, November 25th. Stockholders of record on Thursday, November 3rd will be issued a GBX 2.70 ($0.04) dividend. The ex-dividend date of this dividend is Thursday, November 3rd. This is a boost from Clinigen Group PLC's previous dividend of $1.30. This represents a dividend yield of 0.38%.
Clinigen Group PLC Company Profile
Clinigen Group plc is a United Kingdom-based global pharmaceutical and services company. The Company consists of four businesses that provide medicines to patients with unmet needs, through clinical trials, licensed and unlicensed supply. It operates through four segments: Clinigen Clinical Trial Services (CTS), Idis Managed Access (MA), Idis Global Access (GA) and Clinigen Specialty Pharmaceuticals (SP).
Receive News & Ratings for Clinigen Group PLC Daily - Enter your email address below to receive a concise daily summary of the latest news and analysts' ratings for Clinigen Group PLC and related companies with MarketBeat.com's FREE daily email newsletter.