Stock analysts at Morgan Stanley started coverage on shares of Cobham plc (LON:COB) in a report released on Tuesday. The brokerage set an "equal weight" rating and a GBX 170 ($2.22) price target on the stock. Morgan Stanley's price target would indicate a potential upside of 1.55% from the company's current price.
Several other equities research analysts have also recently issued reports on the company. JPMorgan Chase & Co. restated a "neutral" rating and set a GBX 165 ($2.15) price objective on shares of Cobham plc in a report on Wednesday, September 14th. Liberum Capital reiterated a "buy" rating and issued a GBX 180 ($2.35) target price on shares of Cobham plc in a report on Monday, September 12th. Goldman Sachs Group Inc. reiterated a "neutral" rating and issued a GBX 174 ($2.27) target price on shares of Cobham plc in a report on Sunday, September 11th. Berenberg Bank reduced their target price on Cobham plc from GBX 170 ($2.22) to GBX 160 ($2.09) and set a "sell" rating on the stock in a report on Tuesday, August 16th. Finally, BNP Paribas cut Cobham plc from a "neutral" rating to an "underperform" rating and reduced their target price for the company from GBX 143 ($1.87) to GBX 140 ($1.83) in a report on Wednesday, August 10th. Three analysts have rated the stock with a sell rating, ten have assigned a hold rating and four have assigned a buy rating to the company. Cobham plc has an average rating of "Hold" and a consensus target price of GBX 192.63 ($2.51).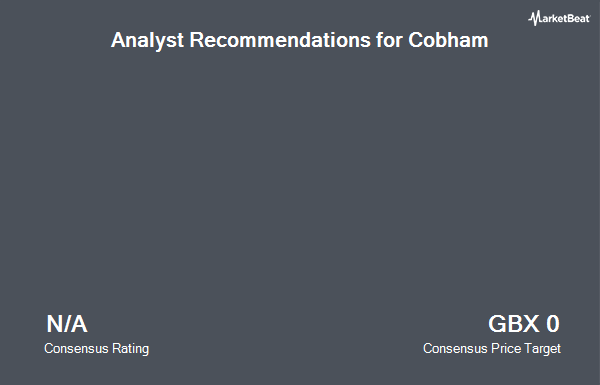 Shares of Cobham plc (LON:COB) traded down 0.90% during trading on Tuesday, hitting GBX 165.90. The stock had a trading volume of 2,494,052 shares. The company's market cap is GBX 2.25 billion. The stock's 50 day moving average is GBX 164.83 and its 200-day moving average is GBX 160.16. Cobham plc has a 12-month low of GBX 124.32 and a 12-month high of GBX 262.67.
The business also recently announced a dividend, which will be paid on Friday, November 4th. Stockholders of record on Thursday, October 6th will be issued a dividend of GBX 2.03 ($0.03) per share. This represents a dividend yield of 1.22%. The ex-dividend date of this dividend is Thursday, October 6th.
In other news, insider Nicholls,Simon sold 16,557 shares of the company's stock in a transaction that occurred on Monday, August 8th. The stock was sold at an average price of GBX 164 ($2.14), for a total transaction of £27,153.48 ($35,443.78).
Cobham plc Company Profile
Cobham plc is a United Kingdom-based company, which offers a range of technologies and services. The Company operates in four segments: Communications and Connectivity, Mission Systems, Advanced Electronic Solutions and Aviation Services. Its Communications and Connectivity segment provides aircraft and in-building communication equipment; satellite communication equipment for land, sea and air applications, and test and measurement instrumentation for radio frequency, cellular communications and wireless networking.
Receive News & Ratings for Cobham plc Daily - Enter your email address below to receive a concise daily summary of the latest news and analysts' ratings for Cobham plc and related companies with MarketBeat.com's FREE daily email newsletter.