Zacks Investment Research upgraded shares of Credicorp Ltd. (NYSE:BAP) from a sell rating to a hold rating in a research note published on Thursday.
According to Zacks, "CreditCorp LTD is a limited liability company to act as a holding company, to coordinate the policy and administration of its subsidiaries and engage in investing activities. Credicorp's principal objective is to coordinate and manage the business plans of its subsidiaries in an effort to implement universal banking services in Peru, while diversifying regionally. They conduct their financial business exclusively through its subsidiaries "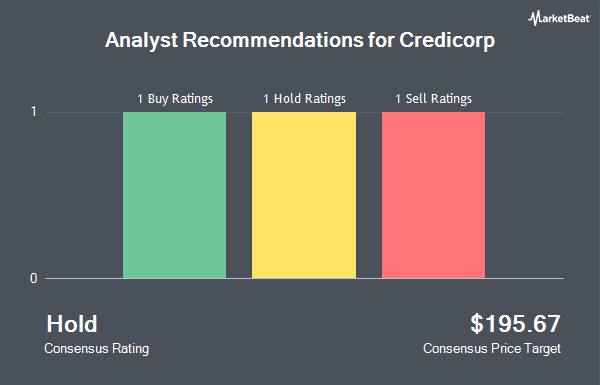 A number of other equities research analysts also recently weighed in on BAP. Credit Suisse Group AG reaffirmed a buy rating and issued a $154.00 target price on shares of Credicorp in a report on Tuesday, August 9th. JPMorgan Chase & Co. raised their target price on Credicorp from $166.00 to $190.00 and gave the company an overweight rating in a report on Thursday, August 11th. Two equities research analysts have rated the stock with a hold rating and four have issued a buy rating to the company. The stock has a consensus rating of Buy and a consensus target price of $175.75.
Shares of Credicorp (NYSE:BAP) opened at 159.72 on Thursday. The company's market cap is $12.71 billion. Credicorp has a 12-month low of $84.72 and a 12-month high of $166.26. The company has a 50-day moving average price of $158.19 and a 200-day moving average price of $147.45.
Large investors have recently added to or reduced their stakes in the stock. Tower Research Capital LLC TRC purchased a new stake in Credicorp during the second quarter valued at $146,000. Smith Asset Management Group LP purchased a new stake in Credicorp during the second quarter valued at $203,000. CAM Group Holding A S increased its stake in Credicorp by 55.6% in the second quarter. CAM Group Holding A S now owns 1,400 shares of the company's stock valued at $216,000 after buying an additional 500 shares during the period. Tdam USA Inc. purchased a new stake in Credicorp during the second quarter valued at $220,000. Finally, National Asset Management Inc. purchased a new stake in Credicorp during the second quarter valued at $232,000. 65.63% of the stock is currently owned by institutional investors.
Credicorp Company Profile
Credicorp Ltd. is a financial services holding company in Peru. The Company has four operating segments based on its products and services, which include banking, insurance, pension funds and investment banking. Its operating subsidiaries include Banco de Credito del Peru; Atlantic Security Bank, which it holds through Atlantic Security Holding Corporation; El Pacifico-Peruano Suiza Compania de Seguros y Reaseguros (Grupo Pacifico); Prima AFP SA, and Credicorp Capital Ltd.
Receive News & Ratings for Credicorp Ltd. Daily - Enter your email address below to receive a concise daily summary of the latest news and analysts' ratings for Credicorp Ltd. and related companies with MarketBeat.com's FREE daily email newsletter.