Hennessy Advisors Inc. (NASDAQ:HNNA) insider Daniel B. Steadman sold 2,341 shares of Hennessy Advisors stock in a transaction dated Tuesday, September 27th. The stock was sold at an average price of $35.15, for a total value of $82,286.15. Following the sale, the insider now directly owns 42,965 shares in the company, valued at $1,510,219.75. The sale was disclosed in a legal filing with the Securities & Exchange Commission, which is accessible through this hyperlink.
Shares of Hennessy Advisors Inc. (NASDAQ:HNNA) opened at 34.98 on Friday. The stock has a market capitalization of $177.21 million, a price-to-earnings ratio of 13.13 and a beta of 0.86. The stock's 50 day moving average price is $35.71 and its 200-day moving average price is $33.15. Hennessy Advisors Inc. has a 12 month low of $23.84 and a 12 month high of $39.50.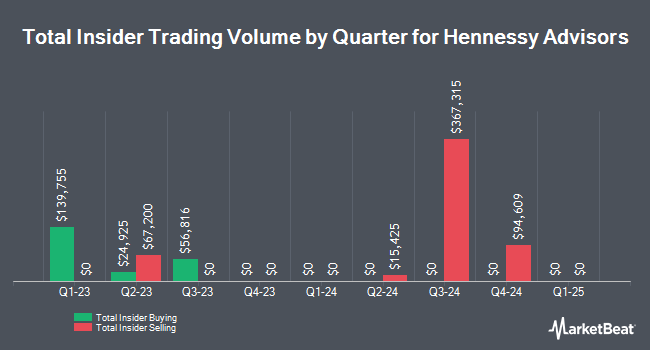 The company also recently announced a quarterly dividend, which was paid on Monday, September 12th. Shareholders of record on Thursday, August 18th were paid a dividend of $0.08 per share. This represents a $0.32 annualized dividend and a yield of 0.91%. The ex-dividend date of this dividend was Tuesday, August 16th. Hennessy Advisors's dividend payout ratio (DPR) is currently 11.94%.
Hennessy Advisors Company Profile
Hennessy Advisors, Inc is an investment management company. The Company's business activity is managing, servicing and marketing open-end mutual funds branded as the Hennessy Funds. It provides investment advisory services and shareholder services. It manages its mutual funds that are categorized as Domestic Equity, Balanced and Fixed Income, or Sector and Specialty.
Receive News & Ratings for Hennessy Advisors Inc. Daily - Enter your email address below to receive a concise daily summary of the latest news and analysts' ratings for Hennessy Advisors Inc. and related companies with MarketBeat.com's FREE daily email newsletter.