Emerald Acquisition Ltd. purchased a new stake in shares of Westell Technologies Inc. (NASDAQ:WSTL) during the second quarter, Holdings Channel reports. The fund purchased 1,122,953 shares of the company's stock, valued at approximately $786,000. Emerald Acquisition Ltd. owned approximately 1.84% of Westell Technologies as of its most recent filing with the SEC.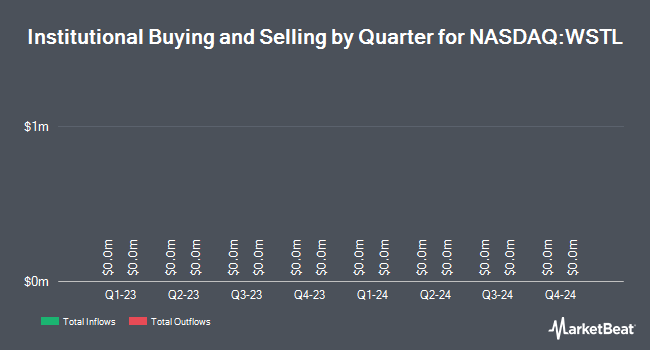 Westell Technologies Inc. (NASDAQ:WSTL) traded up 1.7012% during midday trading on Friday, reaching $0.4902. The company's stock had a trading volume of 20,362 shares. Westell Technologies Inc. has a 52 week low of $0.48 and a 52 week high of $1.51. The stock's market capitalization is $29.94 million. The firm's 50-day moving average price is $0.54 and its 200-day moving average price is $0.79.
Westell Technologies (NASDAQ:WSTL) last posted its earnings results on Wednesday, August 10th. The company reported ($0.06) earnings per share (EPS) for the quarter, missing analysts' consensus estimates of ($0.04) by $0.02. Westell Technologies had a negative net margin of 24.69% and a negative return on equity of 18.63%. The company earned $14.82 million during the quarter, compared to analysts' expectations of $21.03 million. During the same period in the previous year, the company posted ($0.04) EPS. Westell Technologies's quarterly revenue was down 31.3% compared to the same quarter last year. On average, analysts anticipate that Westell Technologies Inc. will post ($0.10) earnings per share for the current year.
Separately, Zacks Investment Research raised Westell Technologies from a "sell" rating to a "hold" rating in a report on Thursday.
About Westell Technologies
Westell Technologies, Inc is a provider of in-building wireless, intelligent site management, cell site optimization and outside plant solutions. The Company's set of products and solutions are designed to manage network performance for carriers, integrators and other network operators. The Company operates in two segments: In-Building Wireless (IBW) and Communication Solutions Group (CSG).
Want to see what other hedge funds are holding WSTL? Visit HoldingsChannel.com to get the latest 13F filings and insider trades for Westell Technologies Inc. (NASDAQ:WSTL).
Receive News & Ratings for Westell Technologies Inc. Daily - Enter your email address below to receive a concise daily summary of the latest news and analysts' ratings for Westell Technologies Inc. and related companies with MarketBeat.com's FREE daily email newsletter.