EuroSite Power Inc (OTCMKTS:EUSP) CEO Elias Samaras acquired 2,500,000 shares of EuroSite Power stock in a transaction dated Friday, September 30th. The stock was bought at an average price of $0.40 per share, with a total value of $1,000,000.00. Following the completion of the purchase, the chief executive officer now directly owns 12,023,312 shares in the company, valued at $4,809,324.80. The purchase was disclosed in a document filed with the SEC, which is available at this link.
Shares of EuroSite Power Inc (OTCMKTS:EUSP) opened at 0.513 on Wednesday. The stock has a 50 day moving average price of $0.64 and a 200 day moving average price of $0.78. EuroSite Power Inc has a 1-year low of $0.43 and a 1-year high of $1.45. The stock's market capitalization is $42.20 million.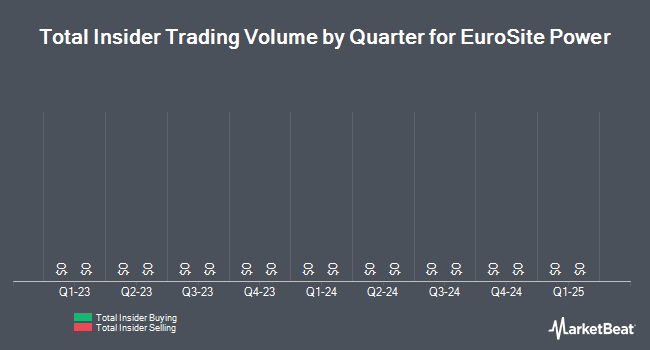 About EuroSite Power
EuroSite Power Inc distributes, owns and operates clean, onsite energy systems that produce electricity, hot water, heat and cooling in the United Kingdom and Europe. The Company provides a range of power purchase style thermal and power generation solutions to its customers. Its solutions include equipment installation, as well as operation and ongoing maintenance.
Receive News & Ratings for EuroSite Power Inc Daily - Enter your email address below to receive a concise daily summary of the latest news and analysts' ratings for EuroSite Power Inc and related companies with MarketBeat.com's FREE daily email newsletter.