Liberum Capital restated their hold rating on shares of Genus plc (LON:GNS) in a research note released on Monday morning.
A number of other analysts also recently issued reports on the stock. Peel Hunt reaffirmed a buy rating on shares of Genus plc in a report on Thursday, August 11th. HSBC reaffirmed a buy rating on shares of Genus plc in a report on Tuesday, August 16th. N+1 Singer raised shares of Genus plc to a hold rating in a report on Tuesday, September 20th. Finally, Numis Securities Ltd reaffirmed a hold rating and set a GBX 1,426 ($18.61) price target on shares of Genus plc in a report on Friday, June 24th. Three equities research analysts have rated the stock with a hold rating and two have given a buy rating to the stock. Genus plc currently has a consensus rating of Hold and a consensus price target of GBX 1,470 ($19.19).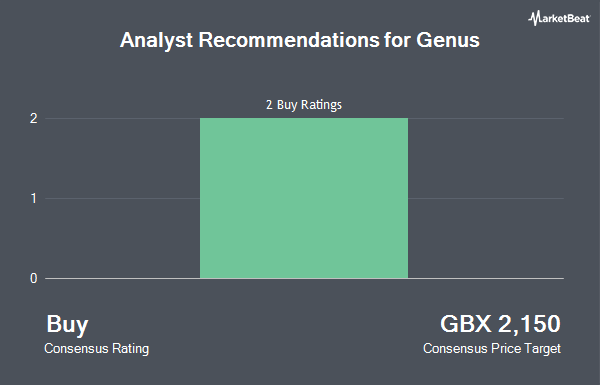 Shares of Genus plc (LON:GNS) opened at 1977.00 on Monday. Genus plc has a 12-month low of GBX 1,281.00 and a 12-month high of GBX 2,056.00. The firm has a 50-day moving average of GBX 1,899.97 and a 200-day moving average of GBX 1,670.11. The firm's market capitalization is GBX 1.20 billion.
The firm also recently disclosed a dividend, which will be paid on Friday, December 2nd. Stockholders of record on Thursday, November 17th will be paid a GBX 14.70 ($0.19) dividend. This represents a dividend yield of 0.77%. The ex-dividend date is Thursday, November 17th. This is a boost from Genus plc's previous dividend of $6.70.
In other Genus plc news, insider Lawson,Robert (Bob) acquired 1,356 shares of the stock in a transaction dated Thursday, September 8th. The shares were purchased at an average price of GBX 1,972 ($25.74) per share, for a total transaction of £26,740.32 ($34,904.48).
About Genus plc
Genus plc is a United Kingdom-based animal genetics company. The Company provides farmers with genetics that enable them to produce animal protein, in the form of meat and milk. The Company's segments are Genus PIC, Genus ABS and Genus Asia. The Genus PIC segment serves porcine customers in North America, Latin America and Europe.
Receive News & Ratings for Genus plc Daily - Enter your email address below to receive a concise daily summary of the latest news and analysts' ratings for Genus plc and related companies with MarketBeat.com's FREE daily email newsletter.