RWE AG (OTCMKTS:RWEOY) was upgraded by research analysts at HSBC from a "reduce" rating to a "hold" rating in a research note issued on Monday, StockTargetPrices.com reports.
Separately, Societe Generale raised RWE AG from a "hold" rating to a "buy" rating in a research note on Tuesday, June 28th. Two equities research analysts have rated the stock with a sell rating, seven have given a hold rating and five have issued a buy rating to the stock. The company has a consensus rating of "Hold" and an average price target of $14.00.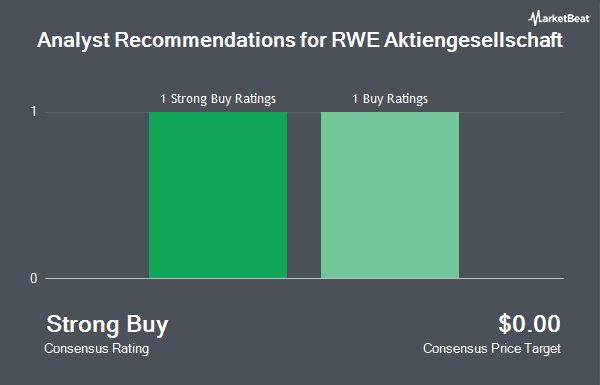 Shares of RWE AG (OTCMKTS:RWEOY) traded down 0.74% during midday trading on Monday, hitting $14.83. The company had a trading volume of 9,055 shares. RWE AG has a 52 week low of $11.12 and a 52 week high of $17.78. The company's market capitalization is $9.06 billion. The firm's 50 day moving average is $16.53 and its 200 day moving average is $15.17.
RWE AG Company Profile
RWE AG is a holding company. The Company is a supplier of electricity and natural gas in Europe. The Company is engaged in lignite production; electricity generation from gas, coal, nuclear and renewables, and energy trading and electricity and gas distribution and supply, as well as in developing and providing energy management solutions.

Receive News & Ratings for RWE AG Daily - Enter your email address below to receive a concise daily summary of the latest news and analysts' ratings for RWE AG and related companies with MarketBeat.com's FREE daily email newsletter.