Grainger PLC (LON:GRI) insider Nick Jopling bought 192 shares of Grainger PLC stock in a transaction that occurred on Monday, October 3rd. The stock was purchased at an average cost of GBX 233 ($3.04) per share, for a total transaction of £447.36 ($583.94).
Shares of Grainger PLC (LON:GRI) opened at 222.505997 on Monday. Grainger PLC has a 1-year low of GBX 193.00 and a 1-year high of GBX 253.00. The company's market capitalization is GBX 920.95 million. The company has a 50 day moving average price of GBX 229.47 and a 200 day moving average price of GBX 225.00.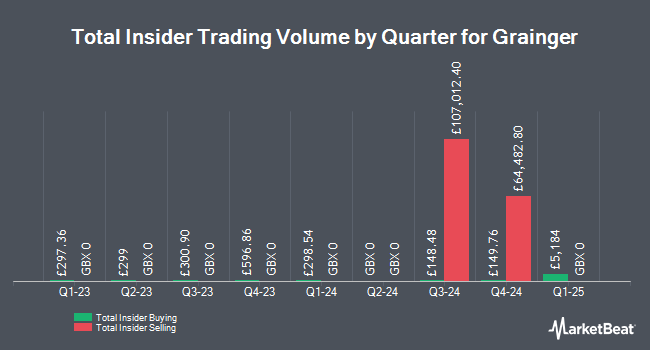 A number of brokerages have recently issued reports on GRI. N+1 Singer reaffirmed a "buy" rating and set a GBX 320 ($4.18) price objective on shares of Grainger PLC in a research note on Friday, September 30th. Jefferies Group reduced their price objective on Grainger PLC from GBX 215 ($2.81) to GBX 199 ($2.60) and set a "hold" rating on the stock in a research note on Friday, August 19th. Finally, JPMorgan Chase & Co. cut Grainger PLC to a "neutral" rating and reduced their price objective for the company from GBX 285 ($3.72) to GBX 270 ($3.52) in a research note on Tuesday, September 6th. Four research analysts have rated the stock with a hold rating and three have issued a buy rating to the stock. Grainger PLC has a consensus rating of "Hold" and a consensus price target of GBX 265.43 ($3.46).
Grainger PLC Company Profile
Receive News & Ratings for Grainger PLC Daily - Enter your email address below to receive a concise daily summary of the latest news and analysts' ratings for Grainger PLC and related companies with MarketBeat.com's FREE daily email newsletter.