Zotefoams plc (LON:ZTF) insider Gary McGrath acquired 56 shares of the firm's stock in a transaction that occurred on Tuesday, October 11th. The stock was purchased at an average cost of GBX 270 ($3.34) per share, with a total value of £151.20 ($187.13).
Zotefoams plc (LON:ZTF) opened at 265.00 on Monday. Zotefoams plc has a 12-month low of GBX 255.00 and a 12-month high of GBX 356.75. The stock's market cap is GBX 115.84 million. The firm's 50-day moving average price is GBX 261.89 and its 200-day moving average price is GBX 275.10.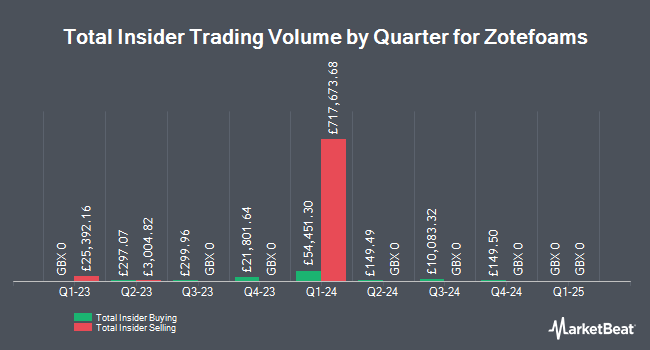 The firm also recently announced a dividend, which was paid on Thursday, October 13th. Investors of record on Thursday, September 15th were given a dividend of GBX 1.85 ($0.02) per share. This represents a dividend yield of 0.7%. The ex-dividend date of this dividend was Thursday, September 15th.
Zotefoams plc Company Profile
Zotefoams plc is a United Kingdom-based cellular material technology company. The Company is engaged in the manufacture and sale of cross-linked block foams. The Company's segments include Polyolefins, High-Performance Products (HPP) and MuCell Extrusion LLC (MEL). Polyolefins foams are made from olefinic homopolymer and copolymer resin.
Receive News & Ratings for Zotefoams plc Daily - Enter your email address below to receive a concise daily summary of the latest news and analysts' ratings for Zotefoams plc and related companies with MarketBeat.com's FREE daily email newsletter.