Century Bancorp Inc. (NASDAQ:CNBKA) major shareholder James J. Filler bought 300 shares of Century Bancorp stock in a transaction dated Tuesday, October 4th. The stock was acquired at an average cost of $45.20 per share, with a total value of $13,560.00. Following the completion of the acquisition, the insider now directly owns 532,013 shares of the company's stock, valued at approximately $24,046,987.60. The purchase was disclosed in a filing with the Securities & Exchange Commission, which is accessible through this hyperlink. Large shareholders that own at least 10% of a company's stock are required to disclose their transactions with the SEC.
Shares of Century Bancorp Inc. (NASDAQ:CNBKA) traded down 0.51% during midday trading on Tuesday, hitting $45.10. 1,538 shares of the stock were exchanged. Century Bancorp Inc. has a 12-month low of $38.26 and a 12-month high of $45.62. The company has a market cap of $251.07 million, a PE ratio of 10.61 and a beta of 0.62. The firm has a 50-day moving average price of $44.62 and a 200-day moving average price of $42.63.
Century Bancorp (NASDAQ:CNBKA) last issued its earnings results on Tuesday, July 12th. The company reported $1.12 EPS for the quarter. Century Bancorp had a net margin of 21.57% and a return on equity of 10.84%. On average, equities analysts predict that Century Bancorp Inc. will post $2.31 EPS for the current year.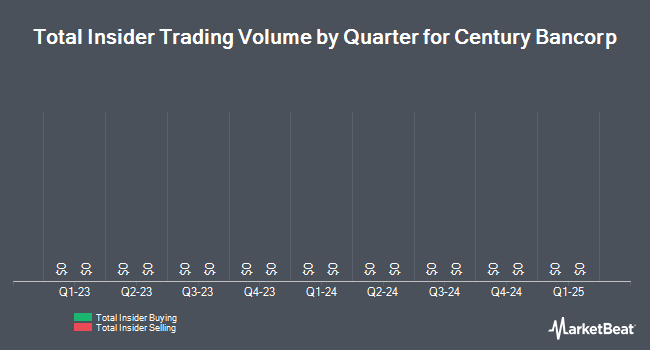 Century Bancorp Company Profile
Century Bancorp, Inc is a state-chartered bank holding company. The Company has a banking subsidiary: Century Bank and Trust Company (the Bank). The Company offers a range of services to commercial enterprises, state and local Governments and agencies, non-profit organizations and individuals. It operates approximately 30 banking offices in 20 cities and towns in Massachusetts, ranging from Braintree in the south to Andover in the north.
Receive News & Ratings for Century Bancorp Inc. Daily - Enter your email address below to receive a concise daily summary of the latest news and analysts' ratings for Century Bancorp Inc. and related companies with MarketBeat.com's FREE daily email newsletter.