Alamos Gold Inc (TSE:AGI) had its target price hoisted by Mackie from C$11.25 to C$11.50 in a research report report published on Wednesday. They currently have a hold rating on the stock.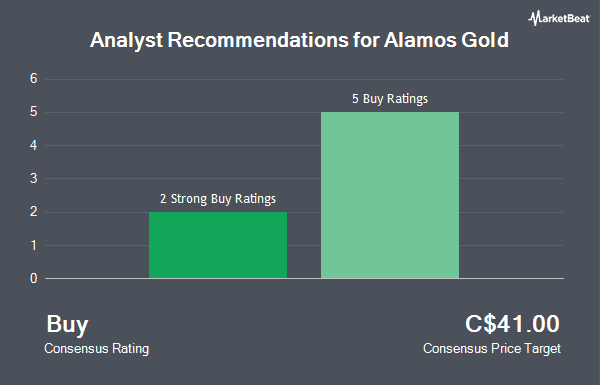 Several other analysts have also commented on AGI. CIBC boosted their price target on Alamos Gold from C$6.00 to C$7.00 in a research note on Friday, June 24th. National Bank Financial raised Alamos Gold from a sector perform market weight rating to an outperform market weight rating in a research note on Sunday, June 26th. Canaccord Genuity decreased their price target on Alamos Gold from C$14.00 to C$9.50 in a research note on Tuesday, July 12th. Desjardins lowered Alamos Gold from a buy rating to a hold rating in a research note on Wednesday, July 13th. Finally, TD Securities boosted their price target on Alamos Gold from C$10.00 to C$11.50 and gave the company a hold rating in a research note on Thursday, August 11th. Six investment analysts have rated the stock with a hold rating and six have given a buy rating to the stock. The company currently has an average rating of Buy and an average target price of C$9.54.
Alamos Gold (TSE:AGI) opened at 10.84 on Wednesday. The firm's market capitalization is $2.89 billion. Alamos Gold has a 12-month low of $3.27 and a 12-month high of $13.65. The company's 50-day moving average price is $10.84 and its 200-day moving average price is $9.64.
In other news, insider Peter Macphail sold 22,000 shares of the company's stock in a transaction on Wednesday, July 6th. The stock was sold at an average price of C$12.68, for a total transaction of C$278,960.00.
About Alamos Gold
Alamos Gold Inc is a Canada-based mid-tier gold producer. The Company is engaged in the acquisition, exploration, development and extraction of precious metals. It is engaged in the exploration and development activities in Mexico, Turkey and the United States. It owns and operates the Mulatos mine in Mexico and holds the mineral rights to the Salamandra group of concessions in the State of Sonora, Mexico, which includes several satellite gold occurrences.
Receive News & Ratings for Alamos Gold Inc Daily - Enter your email address below to receive a concise daily summary of the latest news and analysts' ratings for Alamos Gold Inc and related companies with MarketBeat.com's FREE daily email newsletter.