Richardson Electronics Ltd. (NASDAQ:RELL) announced its earnings results on Wednesday. The company reported ($0.20) earnings per share (EPS) for the quarter, missing the consensus estimate of ($0.06) by $0.14. Richardson Electronics had a negative return on equity of 4.68% and a negative net margin of 4.76%. The company earned $33.40 million during the quarter, compared to analysts' expectations of $37.60 million.
Shares of Richardson Electronics (NASDAQ:RELL) opened at 6.92 on Thursday. The stock's market capitalization is $88.87 million. The firm's 50-day moving average is $6.84 and its 200 day moving average is $5.78. Richardson Electronics has a 52-week low of $4.71 and a 52-week high of $7.24.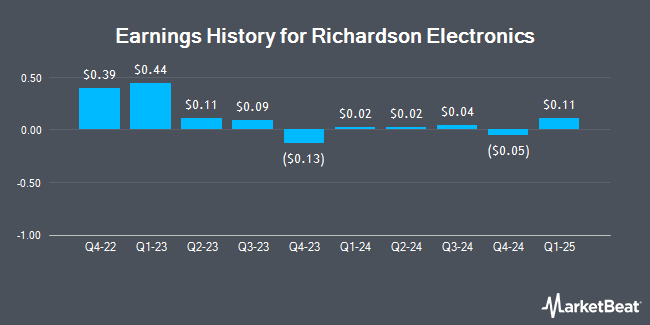 Separately, TheStreet upgraded shares of Richardson Electronics from a "sell" rating to a "hold" rating in a research report on Thursday, August 25th.
About Richardson Electronics
Richardson Electronics, Ltd. is a provider of engineered solutions, power grid and microwave tubes and related consumables; power conversion and radio frequency (RF) and microwave components; high value displays, flat panel detector solutions and replacement parts for diagnostic imaging equipment, and customized display solutions.
Receive News & Ratings for Richardson Electronics Ltd. Daily - Enter your email address below to receive a concise daily summary of the latest news and analysts' ratings for Richardson Electronics Ltd. and related companies with MarketBeat.com's FREE daily email newsletter.