Urstadt Biddle Properties Inc. (NYSE:UBP) announced a quarterly dividend on Thursday, September 8th. Stockholders of record on Friday, October 7th will be paid a dividend of 0.23 per share by the real estate investment trust on Friday, October 21st. This represents a $0.92 dividend on an annualized basis and a dividend yield of 5.10%. The ex-dividend date of this dividend is Wednesday, October 5th.
Shares of Urstadt Biddle Properties (NYSE:UBP) opened at 18.03 on Friday. The company has a market cap of $668.61 million, a P/E ratio of 17.29 and a beta of 0.35. The stock's 50 day moving average price is $19.07 and its 200-day moving average price is $19.58. Urstadt Biddle Properties has a 12 month low of $16.63 and a 12 month high of $22.37.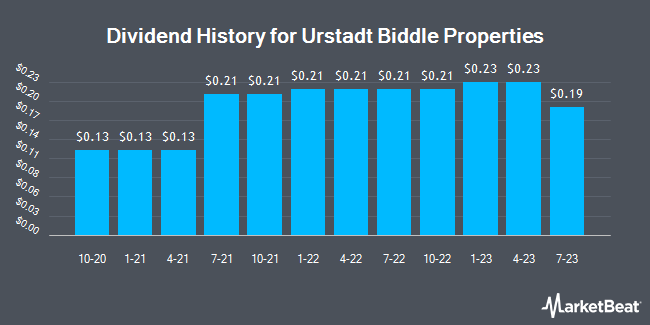 Urstadt Biddle Properties Company Profile
Urstadt Biddle Properties Inc is a real estate investment trust. The Company is engaged in the acquisition, ownership and management of commercial real estate. The Company's primary business is the ownership of real estate investments, which consist principally of investments in income-producing properties, with primary emphasis on properties in the metropolitan New York tri-state area outside of the City of New York.
Receive News & Ratings for Urstadt Biddle Properties Inc. Daily - Enter your email address below to receive a concise daily summary of the latest news and analysts' ratings for Urstadt Biddle Properties Inc. and related companies with MarketBeat.com's FREE daily email newsletter.