Walker Greenbank plc (LON:WGB) declared a dividend on Wednesday, October 12th. Stockholders of record on Thursday, October 20th will be paid a dividend of GBX 0.55 ($0.01) per share on Friday, November 18th. This represents a dividend yield of 0.27%. The ex-dividend date of this dividend is Thursday, October 20th. The official announcement can be viewed at this link.
Walker Greenbank plc (LON:WGB) opened at 202.50 on Thursday. The company's market capitalization is GBX 121.85 million. The stock's 50 day moving average price is GBX 210.30 and its 200 day moving average price is GBX 196.54. Walker Greenbank plc has a 52 week low of GBX 155.15 and a 52 week high of GBX 221.85.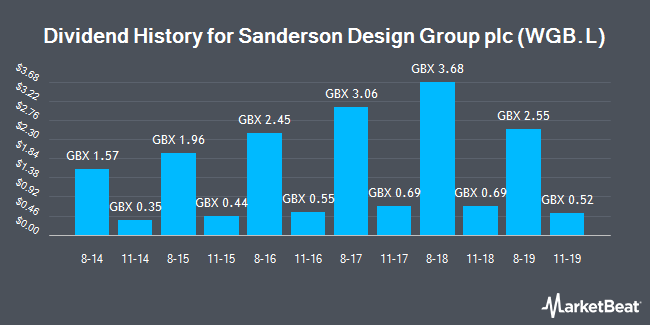 Several brokerages recently commented on WGB. Investec restated a "buy" rating and set a GBX 230 ($2.85) target price on shares of Walker Greenbank plc in a research report on Wednesday, August 3rd. N+1 Singer upgraded Walker Greenbank plc to a "buy" rating and upped their target price for the company from GBX 220 ($2.72) to GBX 250 ($3.09) in a research report on Wednesday.
About Walker Greenbank plc
Walker Greenbank PLC is a United Kingdom-based international luxury interior furnishings company. The Company is a designer, manufacturer and distributor of furnishings, fabrics and wallpapers. The Company manages its operations in two reportable segments: brands and manufacturing. The Brands segment comprises the design, marketing, sales and distribution, and licensing activities of Sanderson, Morris & Co, Harlequin, Zoffany, Anthology and Scion brands operated from the United Kingdom and its foreign subsidiaries in the United States and France.
Receive News & Ratings for Walker Greenbank plc Daily - Enter your email address below to receive a concise daily summary of the latest news and analysts' ratings for Walker Greenbank plc and related companies with MarketBeat.com's FREE daily email newsletter.