Bankwell Financial Group Inc (NASDAQ:BWFG) Director Carl M. Porto purchased 1,500 shares of the business's stock in a transaction dated Wednesday, March 22nd. The shares were purchased at an average cost of $31.50 per share, with a total value of $47,250.00. Following the completion of the purchase, the director now directly owns 6,326 shares in the company, valued at $199,269. The acquisition was disclosed in a document filed with the Securities & Exchange Commission, which is available at this hyperlink.
Bankwell Financial Group Inc (NASDAQ:BWFG) traded down 0.07% during midday trading on Monday, hitting $30.29. The stock had a trading volume of 467 shares. Bankwell Financial Group Inc has a 52 week low of $19.56 and a 52 week high of $35.00. The firm has a market cap of $227.90 million, a P/E ratio of 18.70 and a beta of 0.50. The stock has a 50-day moving average of $32.27 and a 200-day moving average of $28.47.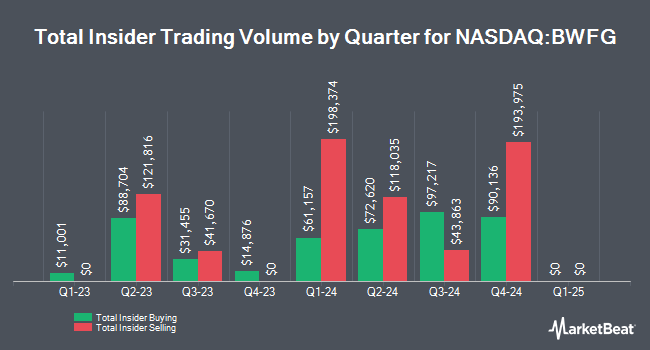 The business also recently disclosed a quarterly dividend, which was paid on Monday, February 27th. Investors of record on Friday, February 17th were paid a dividend of $0.07 per share. The ex-dividend date of this dividend was Wednesday, February 15th. This represents a $0.28 dividend on an annualized basis and a dividend yield of 0.92%. Bankwell Financial Group's dividend payout ratio (DPR) is presently 17.28%.
TRADEMARK VIOLATION WARNING: "Carl M. Porto Acquires 1,500 Shares of Bankwell Financial Group Inc (BWFG) Stock" was first published by Mideast Time and is owned by of Mideast Time. If you are accessing this piece on another site, it was illegally copied and reposted in violation of United States and international trademark and copyright legislation. The original version of this piece can be viewed at https://www.mideasttime.com/carl-m-porto-acquires-1500-shares-of-bankwell-financial-group-inc-bwfg-stock/1589240.html.
Bankwell Financial Group Company Profile
Bankwell Financial Group, Inc is a bank holding company. The Company offers a range of financial services through its banking subsidiary, Bankwell Bank (the Bank). The Bank is a Connecticut state non-member bank. The Bank provides a range of banking services to commercial and consumer customers, concentrated in the Fairfield and New Haven Counties region of Connecticut.
Receive News & Ratings for Bankwell Financial Group Inc Daily - Enter your email address below to receive a concise daily summary of the latest news and analysts' ratings for Bankwell Financial Group Inc and related companies with MarketBeat.com's FREE daily email newsletter.