Stifel Nicolaus reiterated their buy rating on shares of Sinclair Pharma PLC (LON:SPH) in a research report released on Tuesday. They currently have a GBX 71 ($0.88) price target on the specialty pharmaceutical company's stock.
Separately, Peel Hunt reissued a buy rating and set a GBX 68 ($0.84) price objective on shares of Sinclair Pharma PLC in a report on Thursday, January 5th. Six equities research analysts have rated the stock with a buy rating, The company currently has an average rating of Buy and an average target price of GBX 58.80 ($0.73).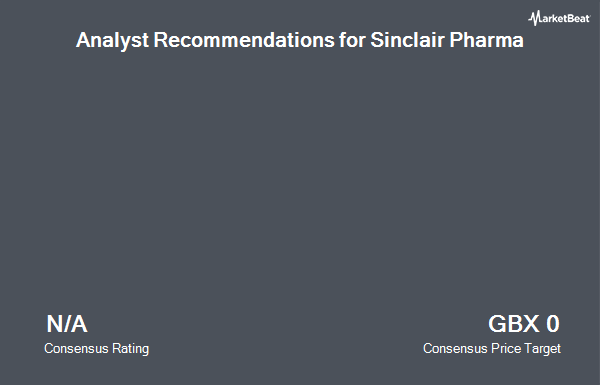 Shares of Sinclair Pharma PLC (LON:SPH) opened at 33.4999 on Tuesday. The stock has a 50 day moving average of GBX 32.08 and a 200 day moving average of GBX 30.77. Sinclair Pharma PLC has a 1-year low of GBX 26.00 and a 1-year high of GBX 36.75. The company's market cap is GBX 166.49 million.
ILLEGAL ACTIVITY WARNING: This article was posted by Mideast Time and is owned by of Mideast Time. If you are viewing this article on another site, it was illegally copied and reposted in violation of US & international trademark & copyright law. The correct version of this article can be viewed at https://www.mideasttime.com/stifel-nicolaus-reaffirms-buy-rating-for-sinclair-pharma-plc-sph/1588766.html.
About Sinclair Pharma PLC
Sinclair Pharma plc, formerly Sinclair IS Pharma plc, is a United Kingdom-based specialty pharmaceutical company. The Company is engaged in the manufacture and wholesale distribution of dermatological products. Its segments are Country Operations, which include its operations in France, the United Kingdom, Italy, Germany and Spain, and International Operations, under which the Company sells through a local distributor.
Receive News & Ratings for Sinclair Pharma PLC Daily - Enter your email address below to receive a concise daily summary of the latest news and analysts' ratings for Sinclair Pharma PLC and related companies with MarketBeat.com's FREE daily email newsletter.